So, about the lockout....
Warning:
Under the cut, you can find me being crazy about this one sport Canadians seem to love so much. Read at your own risk.
Canadians are pretty invested in this sport - the one on ice, with a black little thing called
puck
and sticks and beating
each other
the puck and swearing at and insulting (called chirping) each other ... and yeah. Anybody know what I'm talking about?
Canada's national sport, of course: Ice Hockey!
And, congrats for reading until here. I have to admit, that this is the first time that I am attempting writing a Hockey Primer, and it's my first time writing a primer at all. So, well. Anyway I really love Hockey.
But at the moment, it looks pretty bad for all the fans:
The NHL (National Hockey League) isn't playing. Like, at all.
You may wonder why they aren't playing now. It's easy.
Tarifstreik
. Basically. The NHL (so, the owners) want to reduce wages, the NHLPA (National Hockey League Player's Association) doesn't want that and they've come to blows over it. Now, in recent history, in the 2004/5 season, there was also a lockout about the same problem, and it seems as though this whole season may be very well cancelled completely - yesterday they announced that all games through January 15th are cancelled - which is why a lot of players have escaped ... to Europe.
The talks about new payment have broken down, apparently because the NHL are unwilling to come and meet the NHLPA in the middle.
Okay, maybe somebody want to know more about the sport:
That, ladies and gentlemen, are the Chicago Blackhawks (red) vs the St. Louis Blues (Blue/White), 29.3.2012
Hockey in a nutshell (zusammen gefasst):
A team has a maximum of six dudes on the ice, three forwards (
Stürmer
), two defense men and a goalie, and there are two teams on the ice.
They play three periods with twenty minutes each, so one game takes an hour without intermissions (2x15 minutes) - as long as they're not going into overtime, of course.
You might say now: 60 minutes? Isn't that a bit short? Soccer players play
90 minutes!
You may be even more appalled to learn that hockey players play in shifts: One line (three forwards) plays usually 30 to 60 seconds, rarely longer. But Hockey is really, really exhausting: There is such a thing as
Bag Skate
, used to punish the players and (as far as I have deduced, because I haven't yet found it written anywhere) consists of the players skating non-stop. And after 20 minutes, even the best are
dead on their feet.
So, the sport is pretty fast paced, and the goal is, of course, to score goals. You do that by tapping the puck into the goal (of course).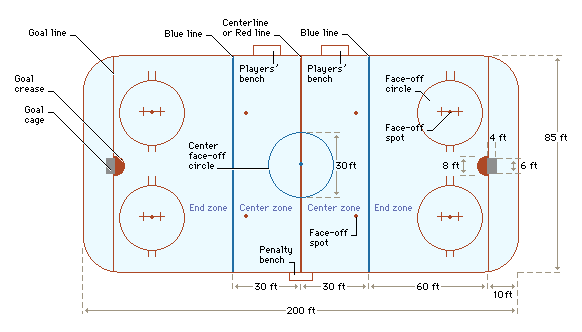 NHL-sized Hockey rink
The rink is divided into three parts by the two blue lines.
For the left team, the left zone (
End Zone
) is their
defensive
zone, the
Center Zone
inbetween the blue lines is neutral and the end zone on the right is their
offensive
zone. For the team on the right it's vice versa. The circles are face-off circles: Every time there is a break of the rules (more on that after the video), they start in one the circles in the end zones. In the Center face-off circle, they begin the game or start after a goal.
Blackhawks vs. Detroit Red Wings: Notice how two players, Chris Draper #33 for the Wings (Red) and Jonathan Toews #19 (White, their
Away-Jerseys
) for the Hawks, are facing each other, trying to get the puck once it's dropped. Unfortunately, Draper wins, and his team scores a goal.
The Rules:
1. Icing:
The puck may not pass two red lines without being touched by a player:
A
is not considered icing, whereas
B
is:
The puck crosses both the Center and the Goal Line. A linesman stops the game, which is then resumed with a face-off in the defensive zone of the team at fault.
2. Offside
Let me quote wikipedia, as I couldn't possibly explain it so clearly:
In ice hockey, the current play is offside if a player on the attacking team enters the attacking zone before the puck itself enters the zone, either carried by a teammate or sent into the attacking zone by an attacking player. If a defending player carries, passes, or otherwise intentionally sends the puck into his defensive zone, any attacking player in the zone is not offside. However, if an attacking player is attempting to shoot the puck into the attacking zone and it deflects off a defending player, an offside violation can still occur. This is unlike the icing rule, where an unintentional deflection by the other team will negate an icing call. When an offside violation occurs, the linesman blows the play dead, and a faceoff is conducted in the neutral zone closest to where the infraction occurred.
So basically, if the player is in the attacking zone before the puck and gets the puck from his teammates, that's offside.
These would be the most common reasons to stop play. And then there are, as I have already alluded above, the
penalties.
Penalties most often are
minor: 2 minutes for roughing (striking another player), cross-checking (hitting a player with the stick in both ends and not touching the ice) and similar not so bad things
major: 5 minutes, usually for fighting - there is an expression in English: five for fighting
For fighting, I have to add something though: Referees do not necessarily break up a fight immediately. Rather, they let the players go at it, interfering only when it gets too rough - both players serve major penalty, not that it matters, as
both
teams are one man down.
But don't be fooled, if a player seriously injures another or pisses the referees off, he can be suspended! - Full penalty reasons
here
.
Captain of the Edmonton Oilers in the Penalty Box
When a player gets a penalty, he has to go and sit in a glass cage, the penalty box: He gets out of there (as long as it's a minor penalty) as soon as the opposing team scores.
But as long as he's sitting there, the other team is on a
Power play
or has the
Man Advantage
. His team is not allowed to replace him, but they have to play with one person (or sometimes even two) less.
Okay, one thing in regards to the game itself left:
Overtime
: When a game is tied at the end, play goes into overtime. There is no such thing as tying a game, there has to be a winner. Overtime in the play-offs (more on that a bit later on, too) is 20 minutes, kept going as long as it takes for a single goal to be scored.
The NHL and the All Star game use a penalty shootout known as the
Breakaway Relay
, which means the players have no defense men between themselves and the goalie (as far as I could figure this out... I'm sorry if it's wrong).
Well, that was the game itself. Not on to the teams. In the NHL, there are 30 teams, organized in two conferences, the Eastern Conference and Western Conference, and each conference has three divisions, and each division has five teams.
Eastern Conference
| Atlantic Division | Northeastern Division | Southeastern Division |
| --- | --- | --- |
| New Jersey Devils | Boston Bruins | Carolina Hurricanes |
| New York Islanders | Buffalo Sabres | Florida Panthers |
| New York Rangers | Montreal Canadiens | Tampa Bay Lightning |
| Philadelphia Flyers | Ottawa Senators | Washington Capitals |
| Pittsburgh Penguins | Toronto Maple Leafs | Winnipeg Jets |
Western Conference
| Central Division | Northwestern Division | Pacific Division |
| --- | --- | --- |
| Chicago Blakhawks | Calgary Flames | Anaheim Ducks |
| Columbus Blue Jackets | Colorado Avalanche | Dallas Stars |
| Detroit Red Wings | Edmonton Oilers | Los Angeles Kings |
| Nashville Predator | Minnesota Wild | Phoenix Coyotes |
| St. Louis Blues | Vancouver Canucks | San Jose Sharks |
And these 30 teams play 82 games each season, and at the end of each season, the eight best teams of each conference battle in three best-of-seven series out, who may advance into the Stanley Cup Final - the best of the Western vs the best of the Eastern Conference. The Stanley Cup is the most notable and probably most superstitious trophy.
For example, players won't touch the cup before they have won it, as it is said to be bad luck! Another common tradition are
play-off beards.
Teams who make the play-offs don't shave their beards until they have either won or were eliminated.
It usually looks horrible:
Duncan Keith, Alternate Captain, Chicago Blackhawks
(He's usually not so ... bad looking!)








Jonathan Toews, Captain, Chicago Blackhawks
Sydney Crosby, Captain, Pittsburgh Penguins
Patrick Kane, Right wing,
Chicago Blakhawks - unable to grow
a play-off beard, grew a play-off mullet...
and Obama congratulated him for it
after they won the Stanley Cup!
To be drafted (picked) by one of the teams, you have to enter a draft, make a physical and skills assessment, have interviews, and then there is the draft pick.
The higher your draft number, the better you were.
As you might have noticed, the
Chicago Blackhawks
are my personal favourites.
They are one of the
Original Six
, so the six first teams, and after a rather long time without a cup, they finally won one again in 2010.
And since I'm tired now, I'm stopping here. I might make a follow up about the Hawks, because they're awesome (especially Sharpy,
Kaner&Tazer
[Patrick Kane&Jonathan Toews; forward dream team and best friends; called "the odd couple" by their mothers] and Duncs&Seabs [Duncan Keith&Brent Seabrook; defense pairing and best friends; oftentimes called married, suspected telepathy, best defense pairing in the NHL])
EDIT:
Okay, here are my favourites:
Nicknames
: Kaner; Johnny, Tazer, Captain Serious
What's so special about them?
Toews was third overall draft pick in the 2006 draft, but didn't start until the 2007/08 season, as he played one more year of college hockey.
When he started, even though he was a rookie, he made the team work hard, which is why he was made Captain the next season with only 20 years. That makes him fourth youngest captain in the NHL.
He is also youngest member of the Triple Gold Club (winner of Olympic Gold, a world championship gold medal and a Stanley coup) since he won the Stanley coup with 22, and is one of the best Captains in the league, always giving 100% and expecting the team to do the same - and he might also just scream at them to "wake up" in front of cameras if the performance is not up to his standards. He
motivates
the team by being serious - though the media makes him look way more serious than he actually is.
Patrick Kane was first overall draft pick in 2007, joining the team with Toews. He was number one draft pick. To understand why this is quite impressive, I have to say: he is only 1.78 m tall - or rather, short. He was frequently told by other players' parents that he would not have a chance in professional sports, because he is so small. And then he was drafted as the
first one
.
He is often described as Toews's opposite, being full of laughter, joking and having become known for partying, being drunk and crashing college parties.
But both on and off the ice the two of them have clicked - they even roomed with each other in their rookie year, and most of the time they are on one forward line.
From left to right:
Thomas Kopecky, Marian Hossa (Slovakia), Patrick Kane (USA), Jonathan Toes, Brent Seabrook, Duncan Keith (Canada)
They ended up with four medals between them - three gold and one silver - and the Slovakian team wasn't bad either:
Slovakia, a darkhorse in the tournament featuring a handful of NHL players including Marian Hossa and Tomas Kopecky, advanced further than any team in the country's history. The hard-fought loss to Finland, in which Hossa scored a goal and had an assist, ended a great run in which Hossa finished second in the Olympics in scoring with nine points (three goals, six assists).
Amazingly, not a single goal was scored in the tournament while Toews was on the ice.
The best of the Olympic games?
Guess who:
Toews was voted the best forward of the Olympic tournament by the media, and led the tournament in assists. He also ended the tournament fifth in faceoff win percentage at 64.76 percent.
Kane wasn't so great at the beginning, but he got better:
For the United States, Patrick Kane was the object of some criticism before the medal rounds began. Some national analysts said that Kane was as disappointing for the U.S. as Toews was exceptional for Canada. In five games, Kane had only one point on a goal early in the tournament. However, Kane silenced his critics in his final two games.
In the medal round against Finland, Kane led the Americans with two goals. Then, in the gold medal game, Kane was the exceptional creator Hawks fans know. He was credited with an assist on both of the United States' goals, the first being a re-directed shot that got past Roberto Luongo. The second was a quick release in traffic that Luongo left enough of for Zach Parise to score the dramatic game-tying goal with just 24.4 seconds left in regulation. Kane ended the Olympics with five points (three goals, two assists) and a +4 rating.
Source: http://bleacherreport.com/articles/354063-2010-winter-olympics-chicago-blackhawks-recap
Obviously, Canada won, but Kaner said it was better that way: "Johnny is a sore loser..."
There are lots more awesome things about them, all of which you can find
here.
I at least found this very entertaining to read! (And I'd be just repeating everything she's written, so, duh.)
Duncan Keith and Brent Seabrook are something else entirely...
Read
this.
Also hilarious! It's about the Hawks in General, but it talks about Sharp, Keith, Seabrook, Kane and Toews.
What it doesn't mention:
There was an interview. With Keith and Seabrook. Keith lost seven of his teeth when he got a puck into his mouth in one of the playoff games in 2010.
When asked where they are now, he answered:
"Seabs has 'em."
"
I don't think they can live without each other.
"
| | |
| --- | --- |
| — | Stalberg talking about Keith and Seabrook |
http://shoemaster.livejournal.com/498704.html
Note: All these primers of course aren't perfect. They were the best I could find, about their relationship on and off ice... And they were entertaining. :)
And with that I will definitely leave now! :)
Okay, I'm back again:
Again because of the Lockout:
Some players have fled to Europe:
Patrick Kane plays for Biel, and the Flyer duo Claude Giroux and Danny Briere play(ed) for the Berlin Eisbären. Yes, played, because Giroux hurt his vertebrae and is now staying in Ontarion, hoping that the lockout will be over soon.
Since even more games have been cancelled, Sidney Crosby and Toews are also considering joining a European team... Stupid NHL!